Adoration is the acknowledgement of God as God, creator and savior, the Lord and master of everything that exists as infinite and merciful love. — Catechism of the Catholic Church, §2096
Adoration is homage of the spirit to the King of glory, respectful silence in the presence of the ever greater God. — Catechism of the Catholic Church, §2628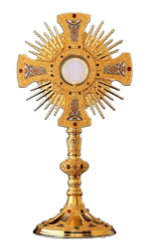 Daily: 7:30 AM – 8:00 PM
Main Church of St. Charles Borromeo
Please consider helping by becoming a regular or substitute Adorer. For more information or to sign up, please contact Patti at 215-639-5668 or This email address is being protected from spambots. You need JavaScript enabled to view it..
During inclement weather, always check the parish website for announcements of the closing and reopening of Adoration.
---
GUIDELINES FOR ADORATION
Genuflect and make the Sign of the Cross upon entering into the presence of the Lord.
Never touch the Monstrance containing the Most Blessed Sacrament.
Maintain silent, quiet reverence in the presence of Our Lord.  If you need to talk to someone, leave the church and hold your conversation elsewhere.
Do not sermonize or preach. Adoration is a peaceful, private time for each adorer.
Silence all mobile devices. No headphones or electronics with sound may be used.
Be mindful of proper and modest attire.
Refrain from eating or drinking in the church, including chewing gum or hard candy.
The church provides devotional and reading materials to assist you in prayer before the Blessed Sacrament. Return borrowed items so that others may use them. Do not add any books, religious articles, or pamphlets to the church's materials unless explicitly approved by the Pastor.
More Articles ...